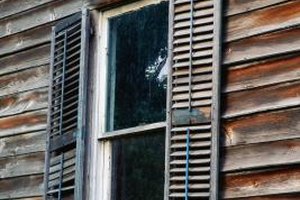 The Federal Housing Administration makes loans accessible to borrowers who have modest down payments, credit challenges and moderate incomes. The FHA insures participating lenders against default, enabling them to finance such borrowers despite the increased risk they present. A borrower, as well as the property he intends to refinance or purchase, must meet certain standards. To find out if a home qualifies, the FHA lender hires an appraiser to analyze the property's condition and value.
The Lender's "Eyes and Ears"
The FHA appraisal has the most bearing on whether your home qualifies for FHA backing. The home acts as collateral, securing the loan's repayment, so the lender must ensure that its value and condition hold up. A borrower is less likely to repay a loan on a home that has major defects or is worth much less than the amount he owes on it. An appraisal evaluation acts as the lender's "eyes and ears," identifying defects with the home's physical components, as well as issues that might impede a clear transfer of title.
Living Up to Standards
The Department of Housing and Urban Development, which governs the FHA's insurance programs, sets requirements, known as HUD's Minimum Property Standards. These provisions cover the home site and the property itself. FHA appraisers must abide by these guidelines when inspecting homes and report items that don't meet HUD rules. The appraiser can also recommend further inspection by a certified or licensed expert, such as an electrician, plumber, roofer, exterminator, engineer or general contractor. The underwriter decides whether the home requires further analysis. If further inspections are ordered, the home may be found to need repair, or could fail to meet the Minimum Property Standards altogether.
Ensuring Property Soundness
A home must meet the FHA's expectations for structural and fiscal soundness, and for occupant health and safety. It requires repair when defects surpass cosmetic wear and tear. Minor property conditions, such as leaky faucets, cracked but otherwise operable windows and doors, worn-out flooring, and missing handrails, don't require automatic repair under FHA standards. Items that always require repair include termite damage identified by a pest-control company, defective paint in pre-1978 homes, leaking or worn-out roofs, and foundation settlement. Lenders ultimately determine whether a home meets Minimum Property Standards. An underwriter may require repair of seemingly minor defects if the defects pose a threat to structural soundness or occupant safety.
Homes Not Taken at Face Value
The appraiser compares your home to similar homes nearby that have recently sold. Appraisers typically use at least three other sales within a one-mile radius as the basis for an estimated value. For most FHA loans, the lender finances an amount up to 96.5 percent of a home's value, also known as a 96.5 percent loan-to-value ratio, or LTV. On a purchase, for example, a sale price of $200,000 yields a maximum loan amount of $193,000 to remain within a 96.5 percent LTV. If the home's appraised value falls short of $200,000, the lender reduces the loan amount to adhere to the LTV limit. For example, if the home in the given example appraised for $195,000, the lender would reduce the loan amount to $188,175. Due to a reduced loan amount, the borrower might have to pay the difference in value out-of-pocket to give his seller the full $200,000 sale price, or renegotiate a lower sale price.
Photo Credits
Stockbyte/Stockbyte/Getty Images