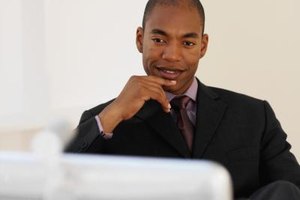 Virtual meetings have become commonplace, supporting global work teams, work-at-home employee and road-warrior workers who spend more time on the road than at the office. As the host of a virtual meeting, you face some unique challenges compared with traditional, face-to-face meetings. For one thing, you lose the ability to read facial expressions and body language that can show how engaged, frustrated or motivated each participant might be. The virtual meeting host must set expectations and manage participants from beginning to end.
Know the Tools
The host must be able to use virtual meeting technology tools effectively. Winging it is not an option. If you don't know how to use the tools properly, precious meeting time will tick away while you make adjustments. Test visual and audio links in advance. If using file- or screen-sharing tools, test those too. Use a trial meeting to familiarize participants with the tools. Once you know how the technology works and you confirm everything's functioning properly, you can focus on what really matters: the meeting.
Establish Meeting Etiquette
Establish the meeting's etiquette before starting on agenda items. Ask participants to mute microphones to eliminate distracting background noise. Follow this with a reminder to turn microphones on again when it's time to speak. As the host, you might be able to track participants on mute and to override those who aren't. Muting microphones might also be necessary if two or more participants try speaking over one another. Inform participants that everyone will have the opportunity to speak -- just not at the same time.
Encourage Participation
Encourage everyone to actively participate. Use the agenda to maintain the course of the discussion but invite questions and comments before moving to each subsequent topic. Don't let anyone monopolize conversations. That includes you. If you find yourself talking too much because people aren't responding, address participants by name to promote input. When you assign action items, ask each assigned person to verbally acknowledge responsibility.
Silence Is Not Golden
Never take silence as evidence of agreement or acceptance. This is particularly important in a virtual meeting. People can stay quiet out of frustration, confusion or even anger, but without seeing body language, you'll never know unless you ask each participant to provide input. If someone doesn't respond, that person may have lost connection or might be having microphone or audio problems. Unless that participant's essential, don't derail the meeting trying to track down the problem. Instead, continue moving forward and follow up with the individual after the meeting.
Meeting Close-Down
At the end of the meeting, summarize all decisions, action item assignments and due dates, and tell participants where they can access written results. Allow each participant an opportunity to make a brief, final remark. Finish by informing or reminding participants of the date and time for any follow-up meetings. Before disengaging the link, don't forget to thank everyone for participating.
Photo Credits
Stockbyte/Stockbyte/Getty Images