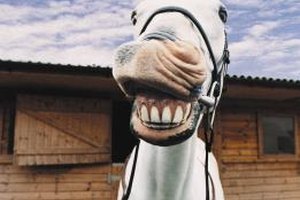 A 2005 economic study commissioned by the American Horse Council Foundation counted 9.2 million horses in the United States owned by 2 million people, indicating that many owners have multiple horses. Multiply this by how frequently horses need regular dental care: annually or semi-annually, with the occasional extraction or other episodic procedure. The numbers add up in your favor to find horse dental patients, but the paths to their barn doors depend on where you live.
Individual State Laws
Horse owners can typically do what they want with their own horses but are subject to each state's individual laws when it comes to the health of a horse they don't own. The United States has no blanket federal regulations; each state sets its own laws governing horse dentistry. Contact your state veterinary board about the exact steps you need to take to legally call yourself a horse dentist.
Doctor of Veterinary Medicine
All states allow licensed veterinarians to perform dental work based on the dental coursework that's part of their veterinarian studies. This means that after four years of undergraduate college, you must gain admission to veterinarian school, which is highly competitive, and graduate as a doctor of veterinary medicine. You then need to follow whatever testing requirements your state has to become licensed to practice veterinary medicine. Not all vets choose to perform equine dentistry, even though they legally may do so.
Veterinarian Dentist
A veterinarian dentist is a DVM who's taken additional courses in equine dentistry. Private schools offer equine dental curricula to prepare students for certification or licensing examinations. The International Association of Equine Dentistry offers a certification exam. Also check with your state veterinary dentistry board to see if it can handle licensing. This represents to your clients that you've undertaken additional measures to specialize in horse dentistry.
Dental Technician
You can attend dental schools without being a DVM and take your dental certification exam when you complete the coursework. This certifies you as an equine dental technician. Whether you can call yourself a horse dentist with this certification depends on the state where you work. Some states will only allow you to work on a horse under the supervision of a DVM or limit you to certain procedures such as teeth cleaning. If you attend college to become a veterinary technician, you may also be able to perform some dental work in certain states, even without attending dental school and without certification. Another option to increase your employability is to become a veterinary technician and then complete the coursework to become a certified dental technician.
Photo Credits
Digital Vision./Digital Vision/Getty Images