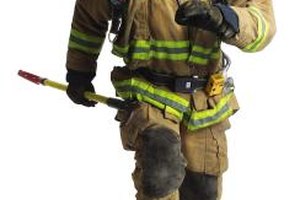 According to the National Institute of Health, more than two-thirds of American adults aged 20 and over are considered overweight or obese. With stats like this, people search for ways to burn a few calories, not only through diet but through lifestyle changes as well. If you have a career that is both physically active and high paying, it is a win-win scenario, as you can be financially secure and maintain great shape.
Competing in Sports, Of Course
An athlete is, of course, an ideal career choice for a person who is looking for a physically active career. Keep in mind that a career as an athlete not only involves natural talent but also a great deal of hard work. The Bureau of Labor Statistics reports that, as of 2012, an athlete's average annual salary was $75,760. This figure takes into account all types of athletes, ranging from football players to competitive skiers to softball players. If you are talented enough to play a sport such as baseball, football or basketball professionally, your salary would be substantially higher. The average salary for a major-league baseball player was $3,213,479 in 2012, and the minimum salary was $490,000, according to MLBPlayers.com.
Whipping Athletes Into Shape
Athletic trainers must be physically active as well. As a trainer, you are consistently working with athletes in a gym setting, developing workout and rehab plans. The BLS reports the 2012 average annual salary for an athletic trainer as $44,010, with the 10th percentile earning $25,960 and the 90th percentile earning $64,140. Compared to Census Bureau data indicating the per-person national average income at $27,915, athletic trainer salaries are relatively high.
Serving Your Country And Looking Good Doing It
In the military, you have daily physical training. You earn decent pay and a housing allowance. You also can't forget the free college education and medical care you receive when you serve in the military. An officer's starting salary was $33,408 in 2011. A typical enlisted soldier, if promoted annually, earned $34,092 after 6 years of service, according to salary data from the BLS. Coupled with a housing allowance and the other benefits you receive in the military, this physically active career certainly is a contender as one of the higher-paying physically active careers.
Serving Your Community Cuts the Cals
As a firefighter, you climb ladders, operate power hoses and are regularly physically active. You stay in shape so that you may quickly respond when your community needs you. When someone's life, property or the environment is at risk, you are there to take measures to correct the situation. As of 2012, a firefighter's mean annual salary was $47,850, with the 10th percentile earning $22,030 and the 90th percentile earning $79,150, the BLS reports.
Shaping Wood Keeps You in Shape
Manual labor, such as lifting materials and operating machinery, is all in a day's work for carpenters. Although you may break a sweat while you are remodeling that kitchen, seeing a finished product is a great accomplishment. As of 2012, a carpenter's average annual salary was $44,520, with the 10th percentile earning $24,880 and the 90th percentile earning $72,580, according to the BLS.
Photo Credits
Photodisc/Photodisc/Getty Images