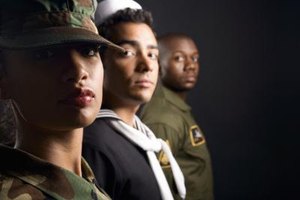 Obtaining a higher level security clearance in the military involves a process similar to getting your initial clearance. Upgrading your security clearance from a secret to a top secret clearance, for example, will require you to complete an security clearance application package, undergo a background investigation and pass an adjudication process. In the military, however, you can only obtain a higher clearance if you are assigned a mission that requires you to hold an upgraded clearance level.
Obtain Mission Assignment
Due to the comprehensive costs involved in obtaining any kind of security clearance, you can only opt for a higher clearance if your new mission requires it. This is not something you can do on your own merit or expense. Once you receive orders or a warrant to enter training for your new billet, your command will sponsor your clearance process and supply you with the appropriate paperwork for your background investigation.
Complete Application
Fill out all sections in your SF-86 Questionnaire for National Security Positions with as much relevant detail as possible. The type of clearance level you are upgrading to will determine how much information you will need to provide. For example, if you are upgrading from a confidential clearance to a secret clearance, you will need to indicate your employers, schools, foreign travel and personal references over the past 10 years. You would need to supply background information back to your 18th birthday for an upgrade from secret to top secret. Once complete, submit your SF-86 package on line, unless directed otherwise, and notify your immediate command.
Background Investigation
Cooperate with your command and investigative personnel during the background investigation. The information supplied on your SF-86 will be thoroughly checked through by an external federal investigating agency like the FBI, OPM or, in most military cases, the Department of Defense. The investigative process may involve several interviews to confirm the validity of information supplied on the SF-86 package. During this time, the investigators will perform checks on your credit, criminal, academic and employment records, as well as contact personal references to ensure that your background information is truthful and accurate.
Adjudication
Once your background investigation is near completion, the investigating agency will adjudicate your case and make the final decision on whether to grant your clearance upgrade. During this stage, the investigators consider potentially negative information on your SF-86, including traffic violations, credit issues or civil judgments on a case-by-case basis. Once your overall suitability for your clearance upgrade has been affirmed, you will be awarded your new clearance and assume your new duties accordingly.
Photo Credits
Thinkstock Images/Comstock/Getty Images