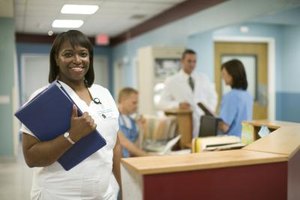 Field nurse supervisors are registered nurses that use extensive nursing training and leadership skills to hire, train, monitor and evaluate nurses within a home health agency. They are also responsible for providing clinical guidance and developing strategies for improving the quality of care. Entrance into this field requires licensure, a bachelor's degree and CPR certification, but a master's degree in nurse administration can provide advanced opportunities.
Education and Licensure Requirements
Becoming a field nurse supervisor in a home health agency takes the completion of an accredited nursing program -- typically a bachelor's degree -- from a school of nursing. However, a master's degree in nursing administration may be preferred. Typically, about one to two years of work experience in a community health, program management or home health agency as a registered nurse is necessary. While the requirements to become a registered nurse may vary by state, generally, you must graduate from an accredited nursing program and pass either a state exam or the National Council Licensure Examination. Additional certifications that employers may require you to hold include CPR and Peripherally Inserted Central Catheter credentials.
Required Skills
Within home health agencies, field nurse supervisors need extensive knowledge of medical, geriatric and psychiatric nursing and state and federal nursing home regulations, including new or changing laws. They must have the ability to direct others, as well as provide clear and concise reports. Analytical and problem-solving expertise is necessary to anticipate staffing problems and find creative solutions. As a field nurse supervisor, you need strong written and oral communication skills. You also must interpret technical and government standards and regulations, and excel in a team environment.
Big Picture Responsibilities
Field nurse supervisors in home health agencies oversee the staffing and education of nursing staff, including registered nurses, licensed practical nurses, home health aides and nursing assistants. This job entails recruiting and hiring nurses, providing performance reviews and resolving issues. These workers also monitor patient care to ensure that nurses are providing quality and effective health care, and make adjustments and provide recommendations in areas that may be lacking. With the assistance of the nurse manager, field nurse supervisors watch over budgets and contracts.
Daily Tasks
The day-to-day tasks of field nurse supervisors within a home health care agency include working with the nurse manager to determine the best allocation of staff, assisting nurses with risk assessments and investigations of injury and checking supplies and equipment. They supervise staff during rounds to ensure that all rules and regulations are being followed and provide assistance during crisis and medical management emergencies. They assign caseloads and create schedules, as well as ensure that staff is in place and on task during scheduled shifts, which also can include handling employee call offs.
Photo Credits
Thomas Northcut/Digital Vision/Getty Images