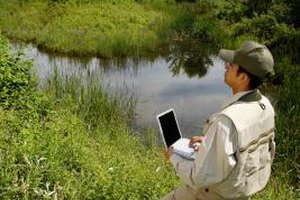 The Brookings Institution projects that the private sector will invest $2.2 trillion in a cleaner and greener economy by 2020, which will produce millions of high-paying jobs in a variety of occupations. Among them are several high demand "green" careers in science, engineering and construction focused on improving the relationship between people and the environment.
Keeping the Water Running
With the average person using 80 to 100 gallons of water per day, according to the U.S. Bureau of Labor Statistics, conserving the world's limited water supply is paramount. Jobs in plumbing and construction helping people make their homes and businesses more water efficient can sometimes be started with a high school diploma. Scientists in water conservation including hydrologists, microbiologists and water conservationists are involved in keeping water clean, safe and in strong supply to meet consumption. They often work with other scientists and engineers, and sometimes outdoors. In a science field, you'll need at least a bachelor's degree to start.
The Sun Will Come Out
The cutting-edge methods and technologies being implemented make solar energy an exciting field. Solar energy preserves the planet's health and can save consumers money on energy consumption in their homes and businesses. Materials engineers and chemical, electrical and industrial engineers are in high demand in the solar energy field. These jobs require at least a bachelor's degree in engineering. Working with solar panels might excite you as jobs such as semiconductor processors or glaziers who work together to build solar panels, or solar photovoltaic installers who fit them to roofs, are in high demand. These jobs might require only on-the-job training to start, according to the Bureau of Labor Statistics.
Out of Gas
Government mandates such as the Renewable Fuel Standard passed in 2005 and amended in 2007 has spurred the increase of demand for biofuels, says a Bureau of Labor Statistics report. As an alternative to fossil fuels, biofuels are produced from organic sources such as plants, grains, and vegetable or animal oils. Proponents say biofuels empower people to use fuel more efficiently and with less pollution. Chemists, lab technicians, microbiologists and environmental scientists are in demand to develop biofuels. Environmental, chemical and agricultural engineering careers, requiring at least a bachelor's degree, are also high demand careers that can put you at the forefront of biofuel expansion.
The Green House Effect
Demand is high for building more energy efficient properties of all types. Rehabbing and renovating properties to make them more resourceful also creates more opportunity for experts and laborers in construction-related trades who want to improve indoor living while helping the environment. By 2016, green construction is expected to represent 55 percent of all new commercial and institutional construction and 38 percent of home renovations, according to McGraw Hill Construction's 2013 Dodge Construction Green Outlook Report. In this field, you may need to become certified in Leadership in Environmental and Energy Design, or LEED, a set of widely used standards set by the U.S. Green Building Council. Architects, engineers and urban planners with at least a bachelor's degree and LEED Accredited Professional certification are also in high demand.
Photo Credits
Jupiterimages/Photos.com/Getty Images