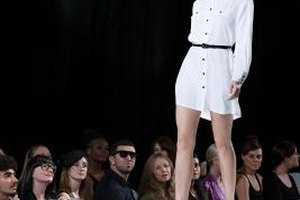 Fashion event planners don't always need a college degree, but some employers favor those who have extended their education in either fashion or event planning. However, the fashion industry frequently favors talent and experience over a degree or certification. Considering the nature of the job, those who have had successful experiences working as a coordinator, director or planner in the fashion industry are often preferred over candidates with a degree and minimal experience.
Necessary Knowledge
Ideal candidates have a thorough understanding of event planning as it pertains to the fashion industry. They're knowledgeable about consumer behaviors, maintaining relationships with clients and customers, managing events, designing and transforming a space, decorating and selecting color schemes, preparing entertainment contracts and receiving endorsements. They're able to cater every detail of their services to different shows, activities or fundraisers in a variety of settings, and know which elements contribute to a successful event.
Developed Skills
Event planners start off in entry-level positions until they can practice and develop their skills. Some take advantage of volunteer opportunities to gain experience in coordinating events, while others learn hands-on by organizing meetings, gatherings, or parties for family and friends. Aspiring event planners may take on fundraisers or other social events for non-profit groups to get experience in the field while helping out around the community and establishing connections for the future.
Certification Options
Some event planners become certified meeting professionals through the Convention Industry Council, while others attend universities that offer a professional development certification program, such as New York's Fashion Institute of Technology. Courses provide training in planning, managing and implementing all variations of promotional events that typically occur in the fashion industry. Students learn about fashion publicity, publicity writing, coordinating successful events in-store, and designing event decor and strategies for public relations via social media.
Degree Programs
Some employers may require a degree and related experience in fashion design, public relations, business and hospitality management or marketing. Schools such as Lim College in New York City offer degree programs in fashion merchandising to students seeking careers as product developers, event planners or other positions related to the industry. These programs expand awareness on what it takes to be successful in fashion while teaching students how to identify trends and develop merchandise lines.
Photo Credits
Image Source/Digital Vision/Getty Images