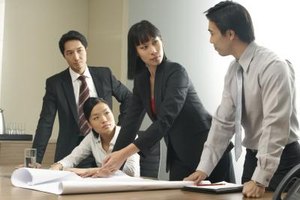 Establishing clear goals and objectives is integral to carrying out a project so it effectively meets expectations. Though sometimes used interchangeably, project goals and project objectives are distinct components of a project. Goals are broader intentions for the project. They are typically intangible and cannot always be validated or measured. Conversely, objectives are narrow in scope and provide concrete, specific and measurable targets. For example, while the goal of a company may be to grow market share this year, and objective may be to increase sales by 10 percent this quarter.
A Framework for Decision-Making
Effective goals and objectives will not only describe desired outcomes for a project, but will also help project teams to de-prioritize tasks that are important and necessary to achieving the outcomes. By providing a framework for assessing the importance of project tasks and activities, goals and objectives allow teams to better direct their attention, focus, and resources. Effective goals and objectives should also serve as motivators for the team, with higher goals and objectives prompting greater effort.
Timelines and Target Dates
In order for goals and objectives to motivate project teams to action, they need to have clear timelines with targeted completion dates. Adding specific dates and deadlines sets expectations for the project teams and allows them to develop schedules for carrying out work based on the given timeline. Establishing timelines can be challenging, and project managers must balance the need to set realistic deadlines, but they should not give so much time that they end up demotivating team members. In general, goals are typically long term and are usually known at the time a project is identified. Objectives, on the other hand, are typically project-specific, can be mid or short term, and are often determined during the planning stages. As projects may have multiple goals and objectives, target dates and deadlines do not always correspond with the target date for completing the whole project. Some goals and objectives may be met earlier in the project, but others are met later.
Documentation and Visibility
While project teams may establish goals and objectives through discussion at a meeting, it is important that they are written down and documented. Writing down goals and objectives solidifies them, reducing the chance for misinterpretation or misunderstanding once the initial discussion is over. In addition to writing them down, many teams will also print or post them somewhere visible to team members. This helps keep the goals and objectives at the forefront for project team members.
Planning for Success
Once the "what" of goals and objectives has been established and communicated, project teams must then determine the "how," a clear plan of action which will serve as a road map for achieving the established goals and objectives. It should not only include a list of tasks to be completed, but also deadlines and owners for each task so teams are clear on who needs to do what and in what time frame. Once the project teams have documented and agreed upon your plan, they should meet regularly to track completion of each task, identify potential issues, and assess overall progress toward goals and objectives.
Photo Credits
Pinnacle Pictures/Photodisc/Getty Images