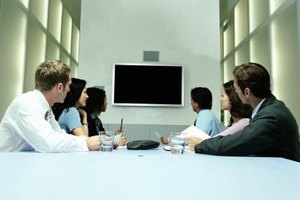 Even with technology's help, company executives, managers and employees still need to put more effort into global relationships than their domestic ones. Making a sale, signing a contract or diffusing a conflict is much easier over a 90-minute lunch across the street than it is two continents and time zones away. Devising sound strategies now to create and keep good working relationships with employees, vendors and customers overseas not only enhances your bottom line but also your reputation.
Communication
Managers with global relations responsibilities in the 1980s and even the 1990s would waste no time in telling you how easy you have it in the 21st century with near-worldwide access to email, affordable teleconferencing and Web-based videoconferencing. Undoubtedly, technology has eased global communication, but don't get lulled into letting these tools manage your communication; rather, you need to manage these tools with a sound communication strategy. Communicate more frequently than you might with people down the hall to prevent a sense of isolation among your global counterparts. Pay particular attention to your listening skills, not just to words but how they are stated. Use video when possible to observe body language and make eye contact. Whenever possible, schedule a personal visit.
Culture
Savvy managers understand the importance of learning a country's culture and respecting it in business dealings. Any non-native company employees also need to be well-steeped in cultural nuances and differences. Two key things to keep in mind are to not assume that cultural norms are the same throughout the country -- what is acceptable in one region may be taboo in another. Cultural habits evolve and change worldwide. For example, if you worked in a country a decade ago and feel comfortable with your knowledge of its culture, you may be surprised at what changes have transpired that can affect how you and your employees should conduct business there. It's important you stay up-to-date and be able to adapt quickly.
Collaborate Globally
Make sure your global workers and partners collaborate with their domestic counterparts, rather than work on projects on location with on-site peers. It may be logistically challenging and require the players to frequently utilize all of the communication tools, but it also helps foster a corporate-wide cohesiveness that spans geographical borders. Don't limit it to work projects; if the office in New York is having a celebratory lunch, be sure that the sales office in Hong Kong has one, too. If possible, link the two offices via videoconferencing for the celebration.
Exceed Ethical Expectations
Responsible companies and their leaders know they must follow U.S. laws for operating globally, as well as the local laws of the countries in which they do business. Examples include anything from workers' holidays and working conditions to environmental concerns. The less tedious and often least-expensive route is to do only what is necessary. However, keep in mind that adhering to another country's standards, whether in your own office or in a partnership with another company, may go against your corporate culture. For example, if you hire a distributor in another country that won't promote women into leadership positions, it will reflect on your corporate image and can create a domestic backlash that may harm your business.
Resources
Photo Credits
Digital Vision/Digital Vision/Getty Images