Meetings can be beneficial for coordinating goals and team efforts, and helping project members collaborate, create support for ideas and problem solve. When decisions need to be made, a meeting may help members reach a consensus and accomplish a task faster. Meetings can be held in person, via the phone or by conference call, by letter, email or any combination of options. For a meeting to be effective, it is important to prepare effectively. Having a checklist can help organize a meeting and make sure that once a meeting begins the participants stay on task.
Meeting Preparation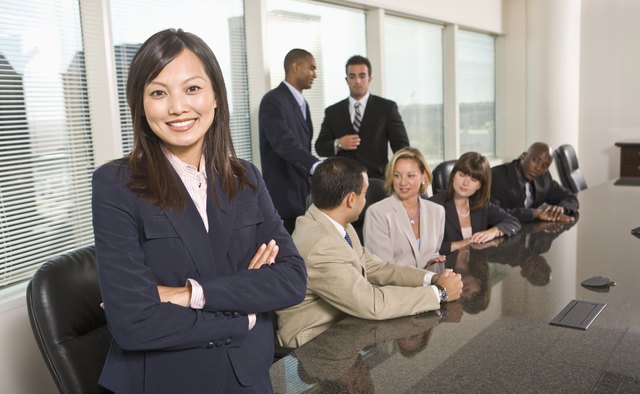 Before a meeting starts it is a good idea to ask whether a meeting is truly necessary. Sometimes certain problems can be solved without holding a meeting. At other times, more than just team members are invited to a meeting, or there are more efficient ways a problem can be solved other than by holding a structured or formal meeting. For example, informal meetings by conference calls sometimes can resolve a problem faster than by trying to coordinate schedules and having people gather at once place at one time. It is important to ask pertinent questions that define the goals and objectives by asking questions, including why you plan to schedule a meeting. Find out what you plan to accomplish and what information you hope to gain by having people gather together. Ask what decisions need to be made by group members and what people are needed to get together to solve problems or collaborate on a certain issue.
Purpose
Once you determine what type of meeting is necessary, you will need to determine how to structure a meeting. Some good items to consider include the best ways to disseminate information to group members in a meeting. As a meeting coordinator, you must determine how you will convey key information to members of the group in efficient ways, and how you will encourage members of the meeting to brainstorm ideas or solve problems. Some meetings are formed for the sole purpose of networking or for you to sell ideas to team members in the meeting. Figure out what your purpose is so you can structure the meeting and make it effective in reaching its purpose.
Checklist for Efficiency
Once you understand your key purpose for the meeting, plan a checklist that complements the purpose and objective of the meeting. Key points of the checklist should highlight the location of the meeting and the time of the meeting. Make sure the meeting place and time take into consideration the comfort level of participants, including their ability to access the room and find parking. Anticipate ahead of time the meeting space, availability of the meeting room and the length of time of your meeting. Next, incorporate an agenda for your checklist. This should include information about the meeting objectives and purpose. Plan to distribute this to meeting participants at least two to three days before the meeting. This gives meeting participants time to prepare so they can make an adequate contribution to meeting goals and objectives. The agenda also provides a focal point for discussion during a meeting.
Agenda
Your checklist should always include a focused agenda. Although there are several different styles of agenda used by various managers, most follow a basic format. This includes a basic title, overview of the meeting, purpose, time the meeting will last, date, location of the meeting, discussion of the items to be presented during the meeting and the names of persons presenting items during the meeting. The agenda may also list the people attending the meeting. There may also be extra space on the agenda for participants to take notes.
Confirmation
A checklist may also include confirmation. This is an opportunity for meeting participants to confirm their attendance. This provides a manager the opportunity to cancel and reschedule a meeting if too few participants are able to attend. Typically, confirmation should be scheduled and all participants should be required to respond by a minimum of three days before the meeting. This also allows the meeting coordinator to send reminders to participants about the meeting through email or other correspondence. Efficient meeting planning is not a complicated process. Planning for it and creating an effective checklist can streamline the process, which allows everyone to become familiar with objectives and meeting processes.
Photo Credits
Jupiterimages/Creatas/Getty Images