Hospitality management is an extensive field that incorporates several different departments and a variety of career options. Lodging managers must ensure the constant safety and satisfaction of guests while maintaining staffing necessities and established budgets. Despite the amount of work these positions entail, experience employed in a hotel remains the biggest factor in successful career progression. Even the simplest job opening can put you on a career path to a management role in hospitality.
Ideal Prerequisites
Preferred candidates for these positions should have natural leadership and interpersonal techniques, an organized approach to problem-solving and a keen listening ability. Developed customer service and managerial skills will impress employers. The Bureau of Labor Statistics urges interested students whose high schools offer the Lodging Management Program backed by the American Hotel and Lodging Educational Institute to enroll during their junior year. Completing this 2-year course grants students a recognized certificate as a Certified Rooms Division Supervisor.
Getting a Foot in the Door
Many job vacancies in hotels require a minimum of a high school or GED diploma. Supervisory roles can similarly be attained without furthering education, but only after gaining several years of experience. According to the BLS, the majority of full-service hotels mandate a bachelor's degree in hospitality or hotel management for individuals applying for a managerial position who lack experience. Progression may be more standardized in larger companies, allowing assistant managers to become managers and eventually regional directors.
How to Advance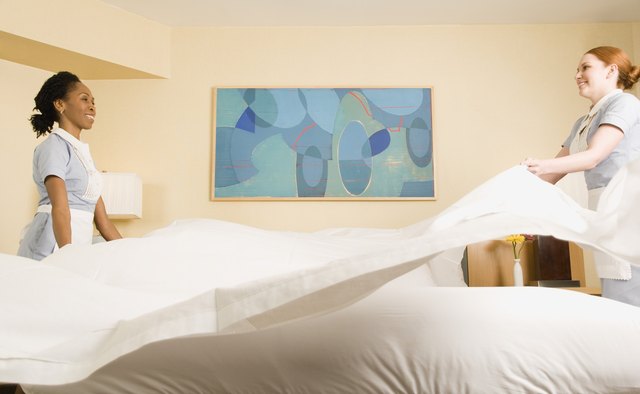 Many hospitality management professionals worked a range of jobs to gain a wealth of knowledge before settling into successful careers. David Croft, the director of hotel relationship management at the Four Seasons corporate office in Toronto, spent more than 10 years in six positions before receiving his current title. Beginning as a pool bar attendant, Croft accepted roles as a housekeeper, project coordinator, purchasing representative, senior hotel relationship manager and a design manager. Employees in entry-level jobs can increase chances of advancing by completing a hospitality management program approved by the Accreditation Commission for Programs in Hospitality Administration.
Promotion Opportunities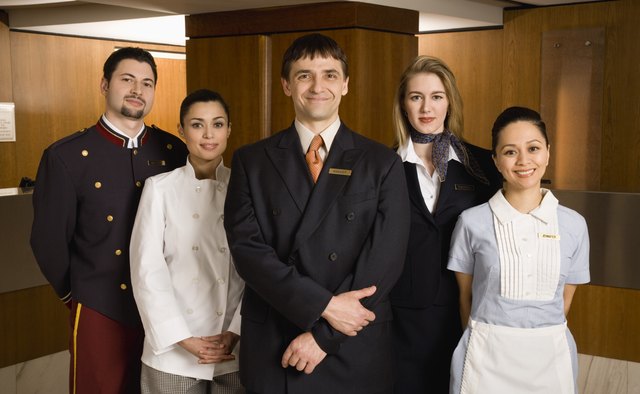 Entry-level positions tend to be within hotel operational departments, such as housekeepers or concierges, kitchen or catering staff and fitness facility operators. Intermediate employees begin as supervisors for a specific division or in administrative and general openings in purchasing, human resources or security departments. The advancement process varies based on the employer, but many go from overseeing a particular section of the hotel to assisting in maintaining all of the operations. Some make it to the executive office with a title of hotel or resort manager and even general manager.
Photo Credits
Michael Blann/Digital Vision/Getty Images