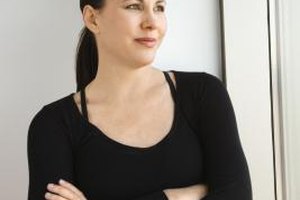 Dance therapists perform a specific kind of recreational therapy that incorporates choreographed movement. According to the American Cancer Society, dance therapy can reduce stress and improve self esteem. It also offers the benefits of exercise, which is useful for both mental and physical health. Becoming a dance therapist requires completing a course of study approved by the American Dance Therapy Association.
What They Do
Using choreographed movement, dance therapists help clients improve body image, build communication skills and develop social skills, since dance therapy requires interacting with others in a social setting. Dance therapists collaborate with other physical therapists or mental health workers to determine the best course of treatment for the client -- for example, if a client needs to work on interpersonal skills, in addition to requiring physical therapy, a dance therapist can create lessons accordingly. These professionals work in a variety of settings including rehabilitation facilities, drug treatment centers, home, schools and psychiatric facilities.
Important Qualities
According to the Bureau of Labor Statistics (BLS), certain characteristics are helpful for succeeding as a dance or recreational therapist. These individuals must be compassionate, since their clients typically suffer from pain. Dance therapists must be patient -- progress may be slow, and the client will require encouragement. Finally, they should be able to record a client's progress, and make necessary adjustments to the treatment plan. This requires critical thinking skills -- the therapist should recognize what is and is not working and rework the plan accordingly.
Education
Six schools offer graduate study in dance therapy -- Antioch in New Hampshire, Drexel in Colorado, Columbia University in Chicago, Lesley University in Massachusetts, Naropa in Philadelphia and Pratt Institute in New York City. The American Dance Therapy Association will also certify teachers who have met certain "alternate route" educational requirements. This requires at least a master's degree, plus the required coursework, fieldwork and internships. Those choosing the alternate course of study must file an alternate route intention with the American Dance Therapy Association to get credentialed.
Pay and Job Outlook
According to the BLS, the median pay for a recreational therapist in 2010 was $39,410. Those practitioners in the lowest 10 percent earned less than $24,640, and the top 10 percent earned more than $62,670. Job growth for recreational therapists is expected to grow 17% from 2010 to 2020, which is about average. As the baby boomer population gets older, these types of professionals will be in demand to help with aches and strains related to aging.
Photo Credits
Thinkstock Images/Comstock/Getty Images