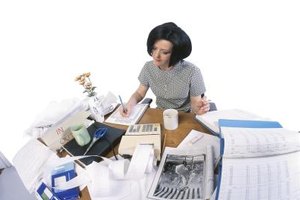 Companies depend on accounts receivable clerks to collect payments from consumer and business customers on time. Accounts receivable clerks prepare and mail invoices to customers, collect payments by phone, and mail and maintain records of both paid and past-due accounts. If you want to work as an accounts receivable clerk, you may need a bachelor's degree in accounting or finance, depending on your employer, but most of these clerks have high school diplomas. Your salary will be contingent on where you live and the industry in which you work.
Salary and Qualifications
The average annual salary -- or base pay -- for an accounts receivable clerk was $30,000 as of 2013, according to the job site Indeed. To get a job in this field, you need at least a high school degree and one or more years of experience in accounts receivables or bookkeeping. Some employers may prefer that you are certified in bookkeeping through the American Institute of Professional Bookkeepers, which requires passing four tests related to bookkeeping. Other essential requirements are an attention to detail, along with math, communication, organizational and computer skills.
Salary by Region
In 2013, average salaries for accounts receivable clerks varied the most within the West region, where they earned the highest salaries of $32,000 in California and lowest of $20,000 in Hawaii, according to Indeed. Those in the Northeast made $26,000 to $36,000 per year in Maine and New York, respectively. If you worked as an accounts receivable specialist in Louisiana or the District of Columbia, you'd earn $25,000 or $35,000, respectively, which were the lowest and highest earnings in the South region. In the Midwest, you'd make the least in Nebraska and South Dakota, at $22,000, and the most in Illinois, at $33,000.
Contributing Factors
An accounts receivable clerk may earn more in certain industries. For example, bookkeeping, accounting and auditing clerks' average salaries were highest at the U.S. Postal Service, according to the May 2012 data from the U.S. Bureau of Labor Statistics: $59,150 annually. Those who worked in the motion picture and video industries also earned relatively high salaries of $46,840, versus the industry average of $36,640 for all bookkeeping, accounting and auditing clerks. Accounts receivable clerks perform similar duties to bookkeepers, so these industry averages could have relevance to potential earnings.
Job Outlook
The Bureau of Labor Statistics predicts a 14-percent increase in jobs for bookkeeping, accounting and auditing clerks from 2010 to 2020, which is on par with the national hiring rate for all occupations. Companies may hire accounts receivable clerks at a similar rate. Financial scandals in the 21st century also make accounts receivable clerks important to companies, which may have a positive impact on jobs.
Photo Credits
Hemera Technologies/PhotoObjects.net/Getty Images