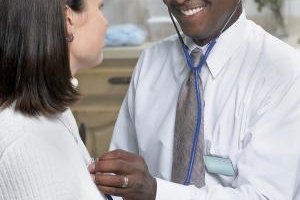 Asthma, chronic bronchitis, emphysema and chronic obstructive pulmonary disease are just a few of the conditions that cardiopulmonary rehabilitation specialists treat each day. They may even work with people recovering from a heart attack, angina or a surgical procedure, such as lung transplantation or heart valve replacement. Leading the team is often a respiratory therapist, who develops the overall treatment plan in concert with the attending physician to improve cardiorespiratory function.
Salary
In 2012, half of all respiratory therapists earned at least $55,870 a year, according to the Bureau of Labor Statistics. The top 10 percent of earners made more than $75,430, while the bottom 10 percent earned less than $40,980. On average, you can expect an annual income of $57,200 for a career in cardiopulmonary rehabilitation.
Local Variances
As with any job, location affects earnings. Among the states, respiratory therapists in California earned the highest wages, at an average of $73,320 a year. Those working in Nevada ranked second, at an average of $69,540, while respiratory therapists in Connecticut were a close third, averaging $67,890. The lowest wages paid were in Kentucky, where the average was closer to $45,460.
Other Roles
Respiratory therapists are only part of cardiopulmonary rehabilitation teams, as a multidisciplinary approach is often necessary to improve not only cardiorespiratory function but also muscular strength and endurance of patients. Teams may include a physical therapist, exercise physiologist and registered nurse, among others. On average, physical therapists earned $81,110 a year, according to the BLS. Exercise physiologists, on the other hand, averaged $47,610, while RNs averaged $67,930 as of 2012.
Additional Variances
Like respiratory therapists, location affects earnings of physical therapists, exercise physiologists and registered nurses. For example, physical therapists earned the most in Nevada, where the average was $110,670 a year. Exercise physiologists earned the highest wages in New York, at an average of $65,890, whereas RNs earned the highest wages in California, at an average of $94,120.
Job Outlook
The BLS expects employment for respiratory therapists to grow by as much as 28 percent through 2020. This is double the average growth rate for all U.S. occupations, an estimated 14 percent. With roughly 112,700 respiratory therapists working in the nation, the 28-percent growth works out to the creation of just over 31,000 new jobs. Job prospects are even better for physical therapists, with an average growth rate of 39 percent through 2020. Opportunities for RNs are also better than average, at a growth rate of 26 percent.
Photo Credits
Liquidlibrary/liquidlibrary/Getty Images